Kiteboarding
It is an honor and a pleasure to wish you a sincere and heartfelt 'ÄúWelcome'ÄĚ from the whole staff and management of our Kite Surf Club 'ÄúD'Äôolcinium'ÄĚ and the citizens of this wonderful city. Montenegro most south city is a pearl among many cities of Montenegro but still with an unique charm. Ulcinj¬† and it'Äôs citizens has for centuries been known as an hospitable city and people. As an destination Ulcinj is among the favorites by families. With it'Äôs quite and secure live, probably represents the safest not only destination,...
Vazhdo
August 7, 2011 :: Sporti / Sport :: Komente (1)
Tags: ada bojana river, ada bojana. Kitesurfing or Kiteboarding, Crna Gora, Equipment Rental & Service, fkk ada bojana, KITE SURF MONTENEGRO, Kite Surfing in Ulcinj, Kiteboarding, Kiteboarding schools, Kiteboarding schools - Kite schools, Kiteboarding Vacations, Kitesurf - Velika plaza Ulcinj, Kitesurf Holiday, Kitesurfing Club Center Ulcinj, Kitesurfing Holidays, Kitesurfing Spain Kitesurfing Hawaii (USA) Kitesurfing Germany Kitesurfing California (USA) Kitesurfing Peru Kitesurfing Massachusetts (USA) Kitesurfing Australia Kitesurfing Brazil Kitesurfing Italy , Kitesurfing SpainKitesurfing Hawaii (USA)Kitesurfing GermanyKitesurfing California (USA)Kitesurfing PeruKitesurfing Massachusetts (USA)Kitesurfing AustraliaKitesurfing BrazilKitesurfing ItalyKitesurfi, manager of 'ÄúDolcinium'ÄĚ- Arian Hadzibrahimi., Montenegrin Kitesurf Club, Montenegro, Montenegro. ... Kite Surf Club D'olcinium, Montenegro. Kite surfing club Ulcinj montenegro, Newly established Kitesurf Club 'ÄúDolcinium'ÄĚ from Ulcinj is going to open outdoor school of this popular extreme sport at Velika plaza, School Lessons, Sports and Media, the financial support of the Ministry of Finance and the Ministry of Culture, The first Montenegrin Kitesurf Club established in Ulcinj, ulcinj, ulcinj travel guide, ulqin, ulqini, Velika Plaza and Ada, Velika plaŇĺa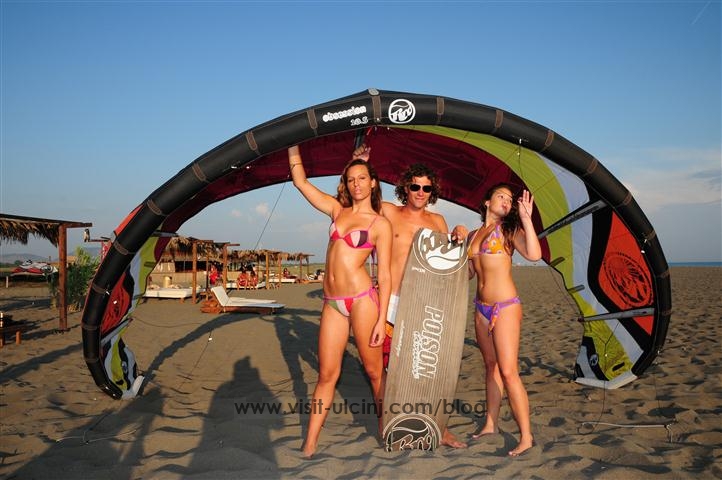 Jedna od najatraktivnijih surf destinacija na Mediteranu jeste upravo Velika plaŇĺa u Ulcinju. Kajtsurf klub 'ÄúDolcinium'ÄĚ iz Ulcinja od pocetka sezone je na kupaliŇ°tu na Velikoj plaŇĺi iza cuvene Kopakabane otvorili Ň°kolu Kajtsurf kluba, tog sve popularnijeg ekstremnog sporta u svijetu. – Ulcinj je medju 10 top evropskih destinacija kada su u pitanju uslovi za voŇĺnju kajta 'Äď kaŇĺe osnivaci predsjednik 'ÄúDolciniuma'ÄĚ Arian HadŇĺibrahimi. Kitesurfing za uzbudljivo ljeto na Velikoj plaŇĺi u Ulcinju Kitesurfing je relativno...
Vazhdo
August 7, 2011 :: news :: Komente (1)
Tags: ada bojana. Kitesurfing or Kiteboarding, Equipment Rental & Service, KITE SURF MONTENEGRO, Kite Surfing in Ulcinj, Kiteboarding, Kiteboarding schools, Kiteboarding schools - Kite schools, Kiteboarding Vacations, Kitesurf - Velika plaza Ulcinj, Kitesurf Holiday, Kitesurfing Club Center Ulcinj, Kitesurfing Holidays, Montenegro. ... Kite Surf Club D'olcinium, Montenegro. Kite surfing club Ulcinj montenegro, School Lessons, ulcinj, ulcinj travel guide, Velika plaŇĺa